Dear Parish Family,

Today we celebrate Mother's Day – a day to honor our mothers, our grandmothers, the women who have been like a mother to us and to ask God's blessing upon them. It is a day for greetings. A day for expressions of love. It is also a day for remembering. I don't believe that anything has ever been said – or ever will be said – that is eloquent enough, or expressive enough to articulate the true value of a mother!

Mothers who have a relationship with Jesus seem to have a godly ability to love even amid their own pain and

suffering. Mothers are often the voice that lifts us up and the voice of encouragement. Mothers are truly a gift from

God. I would like to share a poem entitled, "My Mother".
In Christ's joy,
Father Steve

ON MISSION FOR THE CHURCH ALIVE
I AM THE GOOD SHEPARD

The image of God as shepherd and his promise to lead his people in safety appears throughout the Bible. It is one of the most tender images of God that we can have as he assures us of His constant care and protection in our lives. This care applies not only to us individually as his children, with the shepherd carrying us in His arms, but also to us collectively as the Church, with God leading His flock in safety. This repeated promise to shepherd His people is our guarantee that God is in charge of his Church and that He leads us no matter the circumstances. As we journey On Mission for The Church Alive! we may wonder where the Lord is leading us. While it is natural for us to resist
change, it is also an opportunity for us to grow in trust of God, our shepherd and guide, that He may
transform us and his Church. May we call upon our Good Shepherd to lead us and our parishes in the
years ahead. Visit

onmissionchurchalive.org

to learn more and to stay inform
Thoughts From Father Steve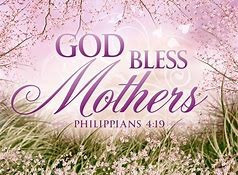 My Mother
Your love, I know – I've seen your tears; you've given to me my life. You've walked through hours and days and years of heartache, toil and strife.

To see that I could have the best that you could give to me, you gave up needs and often rest – you viewed eternity. To do His will my highest call, and by your special care I stood and walked and did not fall, you held me up in prayer. Though strands of gray may brush your hair, and miles divide our way, I know that by your quiet prayer you've helped me day by day.

You've shown me how to give, to share, to put my own needs last. You've helped me see and be aware that life is so
soon past.
To spite your love I would not dare, for there's not another who spreads her gentle love and care like you – my LovingMother.Source unknown